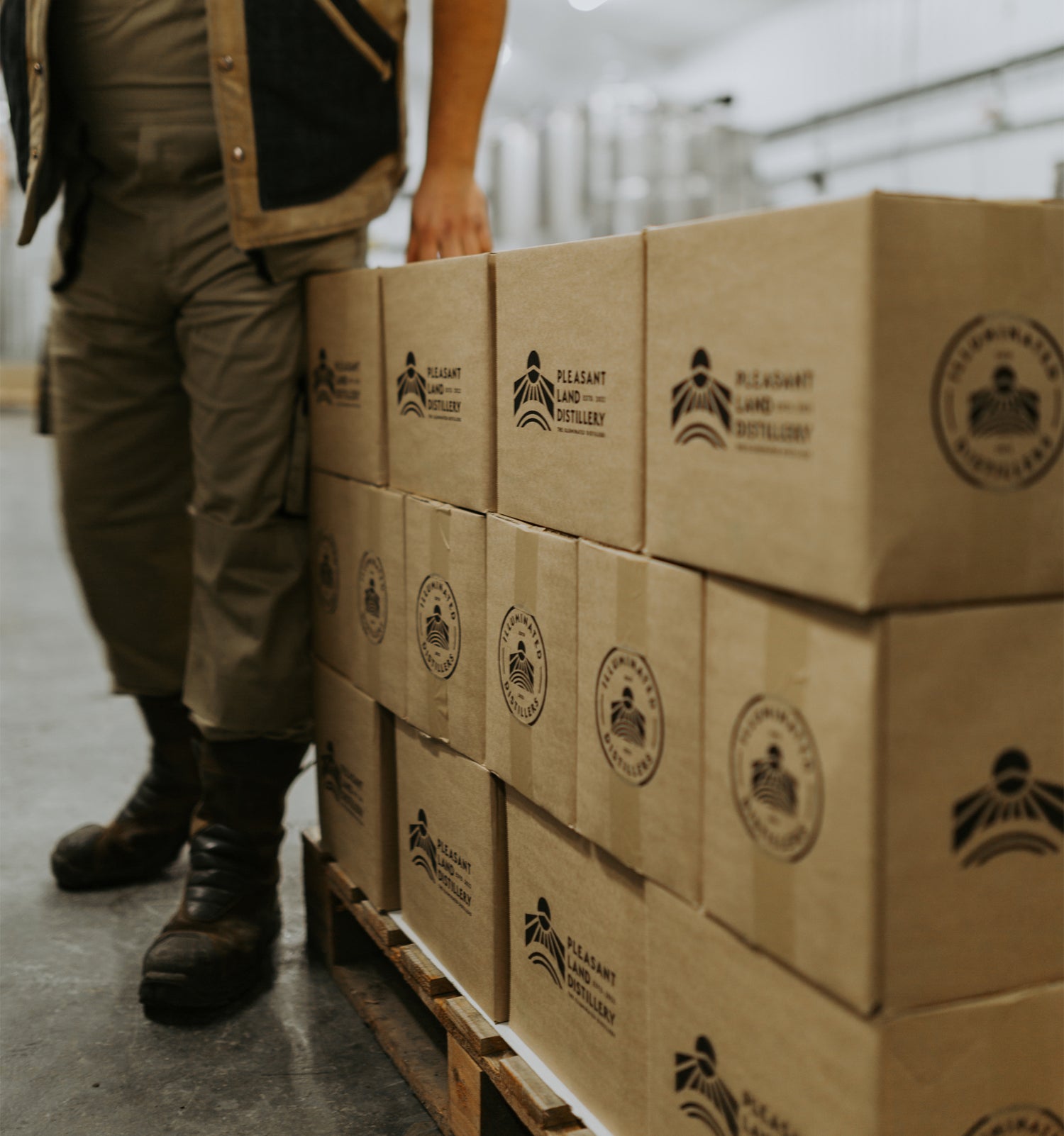 Become A Stockist
We work with independent bars, restaurants, and shop outlets all around the south coast of England, and retailers further afield. From nation-wide pub groups to Michelin-starred restaurants, our selection of sustainably made products are widely enjoyed.
All our products are made using 100% renewable energy at our state-of-the-art sustainable distillery in Kent, and bottled in house using recycled glass and plastic-free packaging.
For trade and pricing enquiries, please email hello@pleasantlanddistillery.com
White Cliffs Gin
Our maritime-inspired White Cliffs Gin is sustainably made with organic ingredients and FairWild accredited wild foraged juniper.
Ingredients: British wheat, wild foraged juniper, local samphire, cherry bark, sweet orange zest, orange blossom, elderflower and sea buckthorn.
Our bottles are completely plastic-free and made from 100% recycled glass.
ABV: 43%
Volume: 70cl
Apple Vodka
An exceedingly smooth, crisp, and fresh contemporary vodka, fantastic for cocktails and as a sipping spirit. Single 2022 vintage of local Kentish Gala and Braeburn apples.
The apples are deseeded and fermented with Champagne yeast, before undergoing 21 distillations for purity. Each bottle contains 16kg of apples.
ABV: 42%
Volume: 70cl
Amaretto Liqueur - 2022 Vintage
Marzipan and apricot jam tasting notes with a rich texture and clean, fruity finish. Made entirely from apricot kernels left over from our Apricot Eau de Vie. After de-stoning the apricots, the stones are fermented in wild yeast before fortifying and sweetening this liqueur. Matured in an inert vessel for 4 months. 
All apricot kernels are Flavorcot single variety, 2022 vintage.
ABV: 18%
Volume: 50cl
Limited Edition: 260 bottles
Walnut Nocino Liqueur - 2022 Vintage
A finely balanced nocino liqueur with aromas of cedar, toffee, walnuts and leather. Roughly chopped walnuts are steeped in alcohol for 2 months to extract all those beautiful tannic, nutty flavours. The remaining alcohol is sweetened using cane sugar and caramel before a 6 month maturation. 
All our green walnuts are single Saturn and Fernette varieties, sourced locally from St Mary's Platt in Kent. 
ABV: 30%
Volume: 50cl
Limited Edition: 180 bottles
Apricot Eau de Vie - 2022 Vintage
A perfumed and intensely fruity sipping spirit, single vintage and variety from 2022.
Fermented for 2 weeks with wild yeast and Torulaspora, each bottle contains 24kg of local Kentish apricots.
ABV: 42%
Volume: 70cl
Limited Edition: 180 bottles
Pear Eau de Vie - 2022 Vintage
A lively eau de vie with rich fruit notes to celebrate the best known of all pears, Conference - an exceptionally flavoursome variety. Single vintage from 2022, and single variety locally sourced in Kent.
In extremely cold conditions, this pear and champagne yeast fermentation took almost 4 weeks to complete. Double pot distilled without reflux.
ABV: 42%
Volume: 70cl
Limited Edition:
Plum Eau de Vie - 2022 Vintage
Capturing the essence of the delicious Victoria Plum variety, this is an approachable and elegant eau de vie. Single vintage from 2022, and single variety locally sourced in Kent.
Fermented for 5 days with wild yeast, then double pot distilled without reflux for maximum flavour.
ABV: 42%
Volume: 70cl
Limited Edition: 130 bottles
Damson Eau de Vie - 2022 Vintage
A rich, fruity and herbacious digestif, with notes of plum and grape skins. Single Farleigh damson variety, locally sourced in Kent, 2022 vintage.
Fermented for 10 days with the wild yeast present on the skins, then double distilled on our pot still.
ABV: 42%
Volume: 70cl
Limited Edition: 220 bottles
How Can We Help?
House Pour Offers

We are invested in our customers, and will work with you to make our listing a success. We can offer POS and volume discounts. For detailed pricing and sales information, please get in touch with our Sales Director, Jessica.

WSET Spirits Educator

Our Founder and Distiller, Sebastian, is a certified WSET Spirits Educator. Experienced in a multitude of fermenting and distilling techniques, Sebastian is a fantastic guide for anyone looking to expand their industry kowledge.

Staff Training

At Pleasant Land Distllery we have a wonderful team of experts, who are specialists in sales and staff training. We offer professional staff training to our stockists, distillery tours, and tastings with the experts!