Our Operation
Leaders in innovative design, we are implementing sustainable processes such as solar-powered stills, biomass-powered steam boilers and circular rainwater systems to operate the UK's first sustainable contract distillery. We have designed and built our own unique systems which reduce our impact on the environment, and therefore also our clients' impact, to almost zero.
Our processes are designed as a circular system, reducing our water consumption and waste production by 90%, and our power is produced using 100% renewable sources. We will be a carbon-neutral business by the end of 2023, and are able to offer our clients carbon offsetting on site.
With a clear mind, we think our spirits taste even more delicious.
Can you afford to have an unsustainable brand?
To create a successful and long-lasting spirits brand in the industry, sustainability is fast becoming an essential aspect of any business. With our unique production methods, we offer our clients delicious spirits, produced sustainably.
"Nearly two-thirds of consumers across six international markets believe they "have a responsibility to purchase products that are good for the environment and society" — 82% in emerging markets and 42% in developed markets. In the food and beverage industry, a growing number of consumers are considering values beyond price and taste in their purchasing decisions, such as safety, social impact, and transparency." - Harvard Business Review
Our Water

Alongside our beautiful stills, we have carefully designed our own distillation processes. Our water usage is carefully managed through rainwater capture, alongside a bespoke closed-loop cooling system.

Our Energy

Distilleries typically require a huge amount of energy, so all of our electricity and steam is created by 100% renewable sources. We use solar panels on the barn roof, alongside a customised biomass boiler.

Our Waste

Waste from our distilling process is used for a variety of different purposes. The gin stillage is fermented and acts as a liquid compost improver, and spent grains are used for local animal feed.
The Distillery
We have designed our own unique distilling processes using renewable energy sources, reducing our water usage by around 80%, and reusing our waste in productive ways.
Firstly, we work with ethically-run local farms to source our raw materials from as close to our site as possible.
Our biomass is created on-site using waste and windfall wood. The wood is chopped by our hammer mill and then dried on the grain dryer using the heat recovered from our stills before being pelletised.
Rainwater is carefully harvested, filtered and used for our distillery processes before being recycled in our bepoke closed-loop system.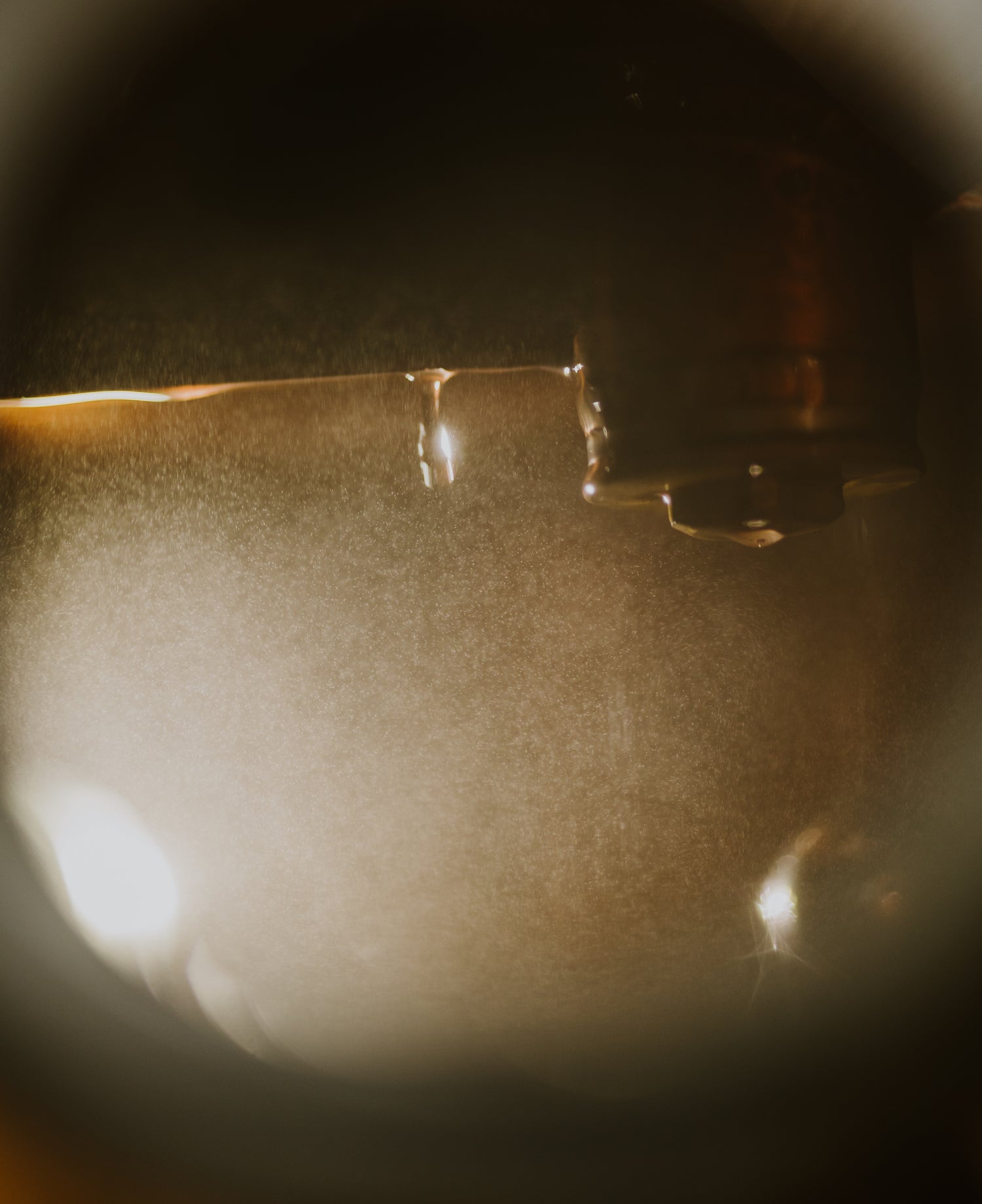 Our electricity and steam is created by 100% renewable sources using solar panels and a customised biomass boiler.
Waste from the distilling process is used for a variety of different purposes. The gin stillage has the alcohol removed and is then cooled and fermented with a Bokashi culture to act as a liquid compost improver. The spent grains and pomace is used for animal feed or vermicomposting.
We do not use single use plastics in our processes or packaging and encourage our suppliers to do the same.
Raw Materials
With incredible produce at our fingertips, such as soft fruit and grains, we work closely with local farmers to source our raw materials from as close to our site as possible.
Our suppliers are carefully selected to reflect and support our ethical business practices, and our business also offers a great alternative solution to disposing of otherwise unwanted fruits.
We have built partnerships with local farmers, who now grow our heritage grain within a 2 mile radius of our distillery. Once distilled, this grain is returned to the farmers as nutrient-rich cattle feed.
Location
As locals to the area, we are proud to run a sustainable business in the heart of the Kentish countryside. Our distillery operates within a working family-run farm, where a number of our raw materials are also grown and processed.
In collaboration with the farm we are developing efficient carbon capture processes and closed-loop, innovate systems for our distilling operations.
Working in partnership with Re-Generation Earth, situated on the farm, we are also offsetting our carbon emissions. This ensures carbon is offset locally through reliable methods, and this is also a service our contract customers can use.